People are increasingly switching to vaping as a safer alternative to smoking. However, finding the best vape tank can be challenging if you're new to vaping. This is because modern vape tanks are incredibly sophisticated pieces of technology and come with all kinds of advanced functions.
It is crucial to select a vape tank that suits your vaping preferences if you want to enjoy the vaping experience. Therefore here are the best vape tanks that will help you enhance your experience.
What are Vape Tanks?
Vape tanks are the component of an electronic cigarette that holds the e-juice and heating element. It is usually made of glass, metal, or plastic and is refillable. Tanks come in different sizes and can hold anywhere from 1.5ml to 10ml of liquid.
Some tanks have adjustable airflow control and others have a pre-installed coil head. There are a variety of different types of vape tanks available on the market, including Mouth-to-lung (MTL) and sub-ohm tanks.
Tank systems are one of the most popular types of e-cigarettes because they offer great flavor and vapor production, and they are very easy to use. All you need to do is fill the tank with liquid, screw on the atomizer head, and you're ready to go!
10 Best Vape Tanks
It can be challenging to choose from the tons of vape tanks available on the market today.
However, we have compiled a list of some of the best vape tanks available today and some of the most recommended ones.
The Aspire Athos Sub-Ohm tank is a new powerhouse for vapers that favor big clouds and rich, smooth flavor. Additionally, it is appealing, long-lasting, has a remarkable juice capacity, is durable, and it frequently comes with another Aspire starter kit.
However, it can well be connected to a separate mod for a great experience.
This Sub-Ohm tank is a serious high-end tank if you are serious about improving your vaping experience. It uses two unique mesh coils that include an A5 Penta-coil head, an A3 tri-coil head, an easy top fill system, three adjustable bottom airflow, and a top-fill system to deliver the best flavor and voluminous vapor production.
The Aspire Athos Sub-Ohm Tank's high-quality Pyrex glass e-juice reservoir is one of its most outstanding features. Glass e-juice tanks have several advantages over plastic tanks, as plastic tanks are readily destroyed, compromising the actual flavor of the e-liquid.
On the other hand, glass tanks can endure the acidic atmosphere, guaranteeing a more pure taste. The tank is also equipped with a clear wide bore drip tip which adds elegance to its appearance, and a stainless steel metal sleeve to prevent the glass from breaking if dropped.
You will love the Aspire Athos, regardless of whether you are a flavor or cloud chaser.
Pros
Easily adjustable dual airflow
Wide portal window
Its design is one of the most appealing on the market, and its coil options are of exceptionally high quality
Cons
consumes e-juice at a startling rate
Low tank capacity
This tank is offered in black, silver, gold, gray, and anodized rainbow and costs $19.99.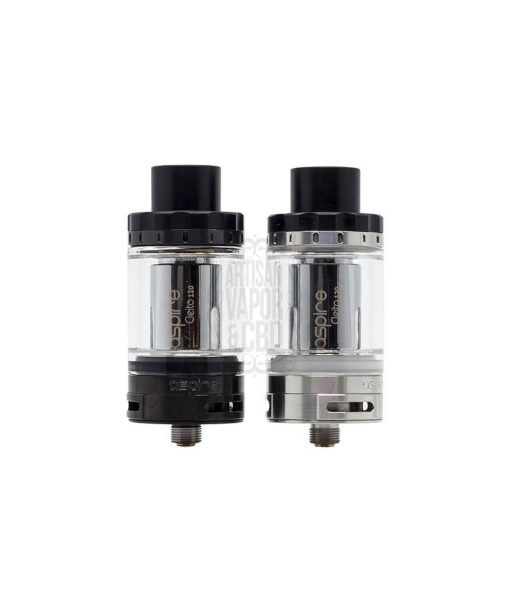 When it comes to sub-ohm tanks, the Aspire Cleito 120 is one of the best, especially if you want to wow your friends with your cloud production. It shares a remarkable resemblance in appearance with the original Cleito tank but has undergone significant performance improvements.
The Aspire Cleito120 has a larger chassis to support Aspire's newly built mesh coil system, allowing it to operate up to 120W.
However, many of the stylistic components that made the Aspire Cleito popular in the vaping community are still present, among them being the top-fill tank, making refilling simple and leaving much less of a mess.
Since Aspire Cleito 120's Maxi Watt coils can handle up to 120 W of power, expect them to have huge vapor production as well as a very tasty flavor. The new, innovative coil design boosts airflow efficiency and circulation, enabling coils to operate at 120W without overheating.
You can start vaping as soon as you take the Aspire Cleito 120 out of its package since it includes a pre-installed 0.16 Clapton coil and one you can replace. Additionally, the tank capacity has been increased from the previous tank's 3.5ml to 4.0ml.
All these improvements make it the best sub-ohm tank available.
Additionally, this sleek tank boasts an attractive, transparent glass style with simple aesthetics. Since it is composed of extremely durable Pyrex, it can resist a few drops; thus, you won't need to worry about it shattering despite the fact that it's clear glass.
Also, the clear glass allows you to observe what is happening in the tank.
Pros
It has good cloud and flavor production
It supports multiple mesh coils
Can hold e-juice capacity
It avoids spitting back
Excellent airflow system
Cons
The drip tip can get quite heated, and some people may find the vape itself to be too warm
The drip tip cannot be changed
The tank is only available in black and silver and costs between $23.99 and $29.99, depending on the store.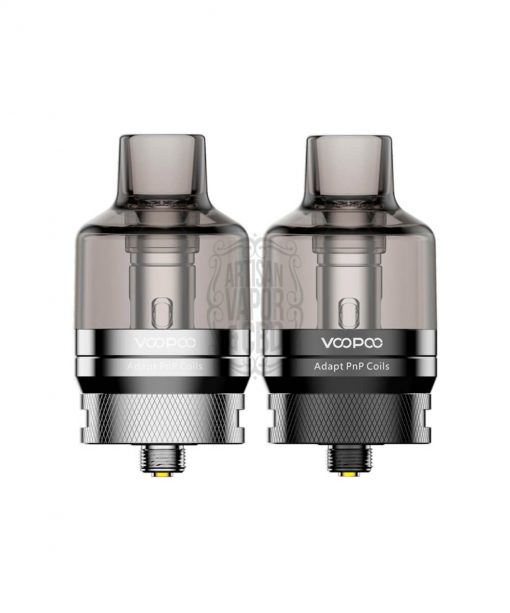 The Voopoo Drag S PNP Tank is one of the best starter kits for beginners. Its design is incredibly practical and uses a single battery style mod with a refillable pod rather than a conventional tank.
Voopoo Drag S is an innovative atomizer design that utilizes both pods and mods. Each Drag S pod has an anti-leak refilling mechanism and can be filled numerous times. Also, the PnP pod may be converted into a vape tank that can be used on a different vape mod when connected with the 510 adaptor ring, which is offered separately.
These pods can also be used with high PG or VG e-liquid due to the wide variety of compatible PnP coils, which include the PnP T coil range, a 0.2ohm PnP-VM5 coil rated from 40-60W, and a 0.3ohm PnP-VM1 coil rated `1from 32-40W.
Additionally, it has a triple adjustable airflow which determines your optimal degree of flavor and vapor production.
Its mod has a built-in 2500mAh battery that can be recharged using a Type C connection. Thanks to the Gene.TT chipset, an intelligent chip that self-regulates and prevents excessive use that could compromise the resistance, the power output can reach up to 60W.
On a full charge, it can offer an entire day of vaping and includes fast recharging due to its 2A current.
With a 4.5 ml capacity, this tank is powered either by pressing the front button or by just vaping. It also uses interchangeable heads from the PnP Series, allowing you to select from various models to personalize your vaping experience.
Pros
Given its excellent materials and aesthetics, the Drag S is a high-end device
It is made of a metal shell with leather inlays for a comfortable grip.
This tank also features a contemporary design
The tank is super compact and light
Cons
The tank is not compatible with TPP coils
It doesn't have MTL coils
It comes in silver and black and goes for $14.99.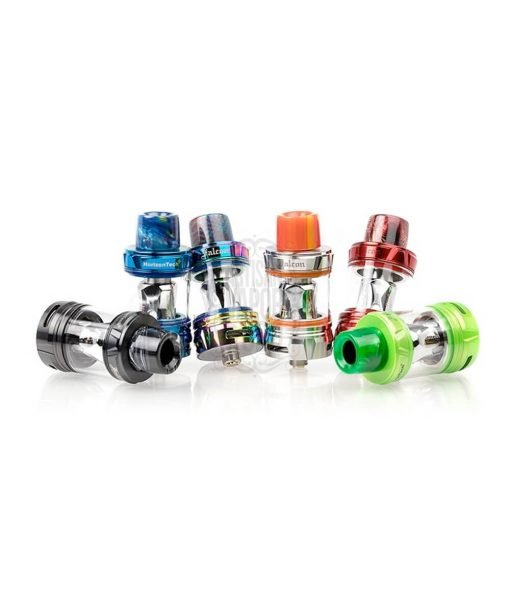 The Falcon Bulb Glass Tank from Horizon features a threaded top fill system, a POM drip tip, and an innovative mesh coil tank system. It also has a 25.2mm diameter and a 5ml E-Juice capacity.
Additionally, the Falcon uses various wicking materials to provide a personalized sub-ohming experience.
This tank has options of natural flax fiber and flax paper, mesh coil, 30% wood pulp with 70% cotton, and 30% wood pulp with flax paper.
The new Falcon King is made of glass and stainless steel, and its all-resin drip tip comes in a variety of color palettes. Also very impressive is the design in that the top easily twists off in two rotations, making it possible to fill the Falcon Tank quickly.
This rebuildable tank atomizer is also simple to disassemble and reassemble.
A device must offer a good amount of flavor in addition to having a nice appearance and a good design, a variety of coil materials, and the Horizon tank does just that. The Falcon sub-ohm tank also produces a cloud that matches the flavor quality fairly well.
Keep in mind that this tank is designed more for flavor than for producing large vapor clouds.
Pros
It has long vape coil life thanks to its unique wicking materials
It has a smooth inhale and outstanding overall performance
Produces incredible amounts of vapor
It has a robust flavor
Cons
It uses a high capacity of juice
It has highly thirsty mesh coils
This tank goes for $24.99.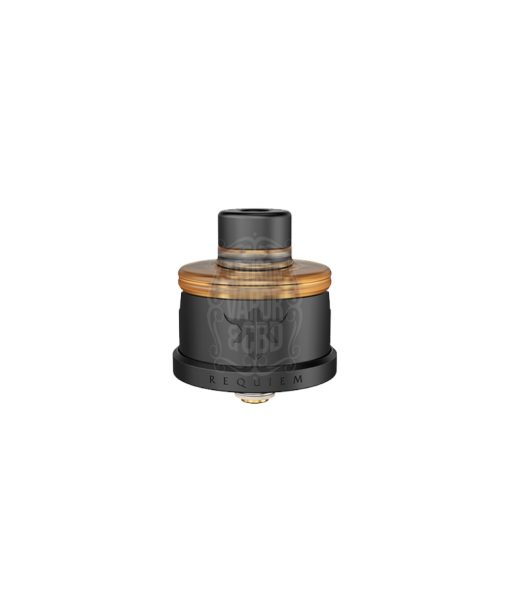 The Vandy Vape Requiem is an RDA designed by Spanish YouTube vape reviewer El Mono Vapeador and manufactured by Vandy Vape. The Requiem is a small, relatively short tank, unlike any other.
Additionally, this tank features a side airflow control, a small, single coil build deck, and a 510 squonk pin, among other features. Also, three top caps are included with the Requiem, and each has a different-sized drip tip and airflow slot.
The Requiem RDA's airflow design is one of its distinguishing features and is highly commendable. The device comes with three airflow caps that offer totally distinct experiences.
Top caps for mouth-to-lung vaping, restricted direct lung vaping, and direct lung vaping are also included. First, we have an MTL cap with two 1mm inlets. This produces a satisfying, moderate MTL draw thanks to its appropriately narrow drip tip.
The second cap has two inlets on each side and is an RDL cap. This offers a genuine restricted DL experience with an incredibly silent, smooth draw.
The final cap has a large inlet on either side and is completely open, allowing for much more air.
All three caps fit neatly into the RDA's barrel section, enabling you to switch between designs whenever you want—as long as the atomizer's internal construction is appropriate.
Despite its small size, the Requiem's flavor is excellent, and this is due to a number of factors, among them being the build deck's ability to lock the airflow slots so that the coil is precisely hit.
The build deck's small size and shortness also concentrate the vapor. The flavor is out of this world for a deck with only a single coil.
Requiem performs significantly better when squonked than when dripped. After squonking, you can immediately start vaping because your wicks become instantly saturated.
However, don't overdo the squonking since the deck only holds 1 ml of e-liquid. Otherwise, liquid may leak out of the airflow holes.
The Requiem RDA from Vandy Vape is a fascinating prospect. On the one hand, it produces outstanding flavor, is incredibly versatile, and is simple to construct. On the other hand, it has post screw issues right out of the box and comes without any tools for changing the 510 pins.
However, if you want a guaranteed hassle-free experience, it is one of the best affordable RDAs on the market right now.
Pros
It has an adjustable airflow
Offers MTL, DL and RDL
Has excellent flavor
It's easy to build on
Cons
You can squonk if not careful
Large coils won't fit small built decks
It comes in matte black and retails for $29.99.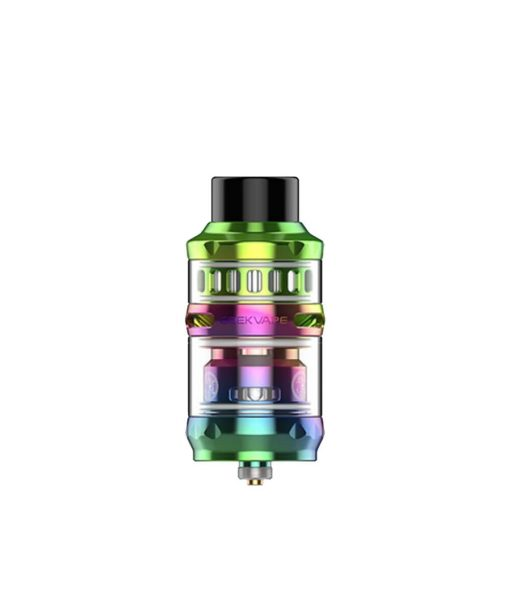 The Geek Vape P is the recently launched sub-ohm tank from the well-known brand Geek Vape. Using the Z coils, the P tank is a sub-ohm tank designed for direct lung vaping at medium to high wattages.
Additionally, the tank has a unique leak-proof design, what GeekVape refers to as "middle airflow."
Although it is a top airflow tank with the airflow above the coil, it is called the middle airflow because the airflow control ring is in the middle of the tank.
With this design, you can shorten the tank and move the airflow to the top without affecting the performance by removing the top glass portion.
The tank is about 60 mm tall, has a 26 mm diameter, and has a 5 mL capacity. It has an  O-ring fitted inside the top cap and uses a typical Delrin friction-fit 810 drip tip. Therefore, pretty much any hints you have should be effective.
The tank is simple to disassemble as well. The top cap slides open easily and has some good gripping areas.
The Geek Vape P tank uses coils from the Z series and includes two options, a 0.4-ohm coil rated for 50–60 watts and a 0.2-ohm coil rated for 70–80 watts. It also has other options: a 0.15–ohm coil rated for 80–90 watts and a  0.25-ohm coil rated for 45–57 watts.
This results in approximately 45–90 watts, which is why the tank is used for medium–to–high-wattage direct lung vaping.
The P tank's airflow is designed to correspond with the coil choice. The air has to travel a long way through this device before it reaches your mouth: from the input in the middle, down below the coil, then through the coil, and finally past the chimney and drip tip.
This airflow system is intended to reduce leakage, a common problem with bottom airflow tanks for vapers. However, flavor and smooth airflow suffer as a result.
Pros
The P tank has excellent performance, a nice appearance, and an innovative middle airflow feature
It has easily adjustable airflow
It does not leak or whine
Cons
Mesh coils can be easily removed
The airflow can be quite loud
The coil life isn't that much great
This tank is a good choice if you're looking for something a little different. This tank costs $29.99 and is available in several colors, including blue and black.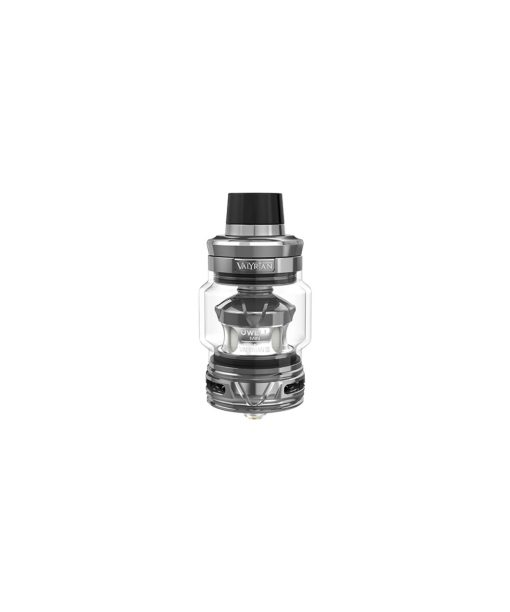 The most recent and updated Valyrian kit is the Uwell Valyrian III Tank. This vaping tank is an improvement of the Uwell Valyrian 2. It features a new design and the most recent Valyrian tank. This dual 18650 battery Valyrian 3 mod has a 200-watt output and temperature control capabilities.
Due to its sub-ohm nature, the Valyrian 3 kit is more suited for intermediate and advanced users.
The sub-ohm tank is made of stainless steel coils, and the device is made of a zinc alloy with padded side panels that resemble faux leather. This vape tank also produces UN2-3 Triple Meshed Coil 0.16, which performs best between 90 and 100 W, and Quadruple Coil 0.15, which is best between 100 and 120 W.
Additionally, the device has a top section with enough room to accommodate a 28 mm atomizer easily. The device has three buttons on the front that can be used to fire the device, switch modes, and change power settings.
The Uwell Valyrian III vape tank produces so much vapor and includes user-friendly features that improve performance. It is intended for Direct To Lung (DTL) vaping, and thanks to the 510 connection and wide range of compatible coils, it is compatible with various vape mods.
With a 2ml maximum liquid capacity, it can be used with a variety of vape juice to create the perfect vape for you. The flip-top design of the tank makes it easy to add more e-liquid with the push of a button, making simple tasks like filling the tank very simple.
Additionally, because of this design, you can refill the tank without taking it out of your mod or disassembling it.
Overall, this vape tank is fantastic and strikingly similar to the older generation of mods, especially for how straightforward it is to use and how few settings are required to make it function.
Pros
Mesh coils release a great flavor
It has a comfortable feel
Great styling
Cons
The batteries drain quickly
It's expensive compared to other sub-ohm tanks with more features
This Uwell Valyrian vape tank is available in blue, black, and iridescent and retails at $39.99.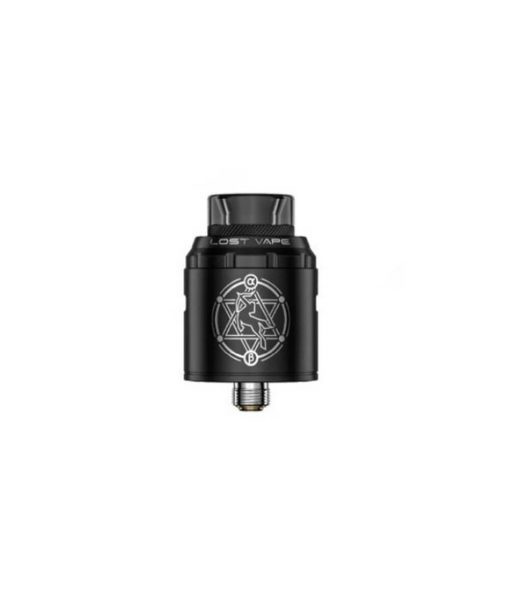 The Lost Vape Centaurus Solo RDA is the initial RDA to be released by the Lost Vape brand. This RDA has been commended for its ability to create great flavor thanks to its authentic dual-air flow channel design.
It can also be used with any squonking mod, but the Lost Vape Centaurus Squonk mod is the perfect fit.
The Lost Vape Centaurus Solo RDA is a highly effective vaporizer that produces flavorful, massive clouds. The package includes a box mod, an extra drip tip, a Centaurus Solo RDA, a 9.5ml bottle of e-juice, a 18650 battery adapter, a warranty card, and a type C cable.
Moreover, the body's combination of leather and carbon fiber ensures a secure grip while vaping, limiting spills and promoting ease of use. The device stands out from other vape gadgets thanks to its high quality, compact design, and luxurious appearance.
It is high-end and appropriate for both seasoned vapers and those new to mod vaping. Also, the squonk mod is leak-proof to ensure clean vaping since all the components perfectly fit together.
The mod's body is made of zinc alloy, which encourages durability. Also, the caps on the battery compartment and refill area are simple to remove, which promotes ease of access.
The Lost Vape Centaurus Quest is a unique vape product worth considering. It has a liquid storage bottle and can be used with other atomizers. Moreover, other batteries that are not part of the pack can be used to vape.
Pros
The device's e-liquid capacity is also sizable, and you can choose from a variety of options to suit your tastes
It has a massive range of color configurations
The tank is built of great quality
Cons
E-juice is not included
Coils have a high wattage
It's kind of costly
The tank costs $29.99 and is available in various exterior colors, including metal black and stainless steel.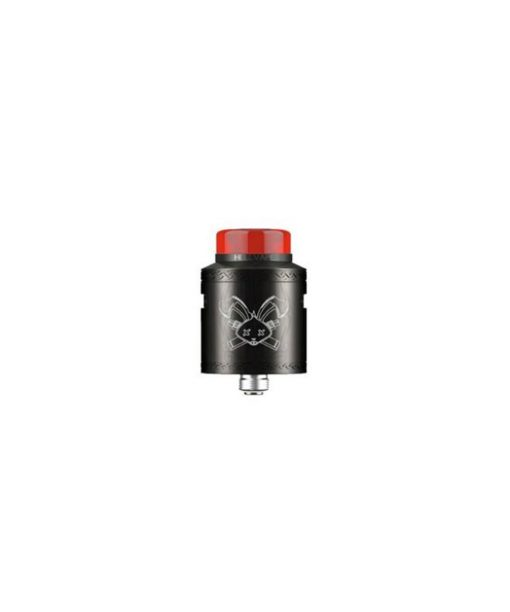 The Hellvape Dead Rabbit Special Edition V2 RDA is the newest member of the Dead Rabbit family and is packaged in a tiny, red box with a clear plastic window revealing the atomizer inside.
A bubble glass for the tank, extra o-rings and fill port gasket, extra grub screws for the build deck, a small screwdriver, and an Allen key are all included in the box's contents.
Dual airflow slots are present on the Dead Rabbit V2 24mm RDA. The airflow can be configured to have open, downward-angled slots or honeycomb-style airflow holes. Additionally, an Ag+ anti-bacterial 810 drip tip is included.
An airflow control ring is situated directly beneath the top cap of the V2, a top-airflow RTA. The two enormous air slots directly across from one another have one of the airiest draws.
The V2 Dead Rabbit RTA has a very straightforward build deck, just like the original. The tank is primarily made of glass and stainless steel. The pre-installed straight glass and the included bubble tank can hold up to 5ml of e-liquid instead of just 2ml.
Furthermore, Dead Rabbit V2 offers better flavor than the original and Drop Dead RDA. The Dead Rabbit V2's ease of construction and drawing has a significant advantage over other tanks.
Additionally, performance is on point, whether dripping or squonking. Leakage is avoided thanks to the deep juice well and top airflow slots. You also won't experience any downtime while vaping because of the location of the squonk holes on the build deck, which feed e-liquid directly to the wicks.
Pros
Has an amazing performance
The tank is leak proof
It's easy to build on
Cons
It's similar to the previous make
Vaping is too loud
The tank is available in a variety of colors, including matte black, shiny blue, matte red, and matte purple, all of which cost $21.99 each.
The Sakerz Master tank, one of the best sub-ohm tanks in 2022, was recently released by HorizonTech. It uses brand-new Sakerz Master coils, which, like the old version, combine wood pulp cotton, and mesh and have a top airflow design.
The Sakerz Master tank features a diamond-cut design, giving it a blingy appearance. It's also larger than most sub-ohm tanks due to its 28mm base diameter.
You can add up to 5ml of e-liquid to the tank using the pre-installed and included bubble glass. A spare straight glass with a 3.5ml capacity is also included.
Additionally, this tank has a drip tip that is wider and taller than a standard 810 drip tip. Thus, it's comfortable to vape on as it also gets narrower toward the top. Also, with a quarter turn, the top cap can be removed, uncovering the fill port since the cap easily detaches and attaches thanks to the smooth threading.
A 0.40 mesh coil and a 0.16 mesh coil are also included with the Sakerz Master. The 0.4 coil is a conventional mesh coil with a rating of 40W, whereas the 0.16 coil is a very fine mesh coil rated at 70W. Due to the wood pulp, cotton, and mesh used to make the coils, the flavor and absorption of the tank are also enhanced.
Pros
Its coil provides a friendly direct lung draw that is loose but not overly airy
Has an easily adjustable flow
Has a smooth and quiet flow
Includes an easily removable coil
Cons
No extra mesh coils are included
Airflow can be noisy
This tank comes in several colors, including carbon black, blue, and rainbow, and sells for $ 37.99.
Should I Choose a Sub ohm tank or Mouth to Lung Tank?
Sub-ohm vaping refers to using a vaporizer with a coil that has a resistance of less than one ohm. This type of vaping produces more vapor and richer flavor, but it also requires more knowledge and experience to avoid problems like dry hits.
On the other hand, mouth-to-lung tanks are designed for people who want a more traditional vaping experience. These tanks are easier to use and produce less vapor, but the flavor may not be as rich.
Ultimately, it's up to the individual vaper to decide which type of tank is right for them.
What Should You Consider When Choosing the Best Vape Tank?
There is no ideal answer to the question of which vape tank to purchase. Choosing the best vape tanks will depend primarily on what aesthetics or features you are specifically searching for.
The ideal vape tank for one individual could not be suitable for another. Here are the key features to consider while picking the best vape tank.
Coil Heads
A vape tank is only as good as its coil heads. The best vape tanks come with long-lasting, reliable coil heads.
A good coil head should also be consistent so that you can receive the same results every time you replace it.
Flavor and Performance
To fully enjoy your favorite e-liquids, the best vape tank should be able to produce fantastic flavor.
Additionally, you should be able to count on your vape tank for reliable, consistent performance to the last puff.
Design
The best vape tank should have a pleasing appearance overall since it completes your setup. You want a vape tank that complements your preferred mods well enough and stands out among others.
Additionally, the best vape tank needs to reflect your personality.
Coil and Tank Structure
A vaping tank's overall performance depends on its coil life and structure. The structure determines if the tank is resistant to problems like spit back and leaking.
Make sure you select a vaping tank with worry-free functioning and sturdy structure.
Heating Wire Material
Different coil options use various heating wire materials, such as stainless steel, kanthal, and nichrome. The type of wire used significantly impacts flavor and vapor production.
The most popular material is kanthal; however, it can only be utilized in wattage mode. The most adaptable material is stainless steel, which can be used in temperature control vaping and regular wattage modes.
Nichrome is perfect for cloud chasing since it heats up quickly and produces a warm vape.
Wick Material
Presently, many kinds of wicking materials are available on the market, including flax fiber, cotton, tea fiber, etc. Cotton is excellent for wicking and delivers a clean flavor.
It does so by absorbing liquid, and it is fairly heat resistant. Cotton's shortcomings are its short lifespan and occasional irregular wicking.
Since flax has a greater burning point than cotton, it is also used. It usually withstands hits better when they are dry or burned.
Also, because tea fiber wicks more evenly than cotton and has a more uniform flavor overall, it has also become more popular for wicking.
Tea and flax fiber, however, have the drawback of not being as readily available as cotton.
What Are the Advantages of Sub-Ohm Tanks?
The newest and most popular trend in vaping is sub-ohm vaping. If you're wondering why it's so popular, we can explain that it's because of the advantages that sub-ohm vaping offers users, which include:
Creates Bigger Vape Clouds
One of the most appealing advantages of sub-ohm vaping is that much larger vapor clouds are generated. This is because sub-ohm mods use larger wicks and coils to spread heat over a larger surface area, which requires more power.
Compared to a traditional vape pen, this causes the e-liquid to be heated to a higher temperature, increasing the cloud production and making it thicker.
Produces Smoother Hits
Another advantage of sub-ohming is a smoother vaping experience. Firstly, when sub-ohming, the vaping mods are used to alter the hit type. This is due to the higher wattage used by the tanks, which produces much more potent nicotine hits.
Also, a smoother and more potent sensation is produced when a VG e-liquid is combined with a lower nicotine level.
Creates Warmer Clouds
Warmer vapor results from increased heat. Conveniently, the vaping mods employed to ensure that your lips are not burned. If you want a sensation similar to smoking traditional cigarettes, this advantage of sub-ohm vaping is fantastic.
Produces Intense Flavor
Sub-ohm vaping offers a significantly better tasting experience compared to devices with higher resistance. Each puff vaporizes more flavor, which contributes to the improved taste, which is also caused by the use of higher-quality wick materials.
You might discover that most of your e-juices have a completely different flavor when vaping at a lower resistance. With the improved and warmer vapor cloud, you will also find underlying flavors and experience the quality of the liquid like never before.
Conclusion
Finding a tank that satisfies your preferences for the best type of vaping experience will help you make the best decision possible about which tank to use.
No need to worry if your ideal vape tank wasn't included in our list of the best vape tanks; Artisan Vapor & CBD offers a wide variety of additional options.